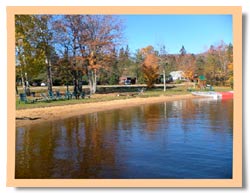 Safe, sandy beach
There's lots to do right here at Lakewoods Cottage Resort. Oxtongue Lake offers excellent swimming and bathing along a sandy shoreline. Water clarity on the lake is excellent.
Enjoy a leisurely canoe, kayak, or paddleboat ride on the lake - if you are lucky you'll see a Common Loon, a Great Blue Heron, a muskrat, or even a beaver. Our canoes, kayaks, and paddleboat's are all included in the price of the cabin. Swim, play on our water trampoline or just relax and enjoy the view. There's also jungle gym, a volleyball court, and horseshoe pits.
Rent a motor boat for $30/hour or $90/day and enjoy the lake at a faster pace. Fishing is good in the area. Fish species present in Oxtongue Lake include small mouth bass, yellow perch, lake trout, rainbow and brook trout and many other smaller species.


.
Create you own great summer memories here at Lakewoods
In the fall there's a kaleidoscope of color on the hills surrounding Oxtongue Lake. And the hiking trails in Algonquin offer breath-taking views at this time of year. During the winter months people from across North America come to ride the hundreds of snowmobile trials in the Muskoka Parry Sound Area. Try downhill skiing or snow boarding at a local hill, or book a dog-sledding adventure with nearby professionals.