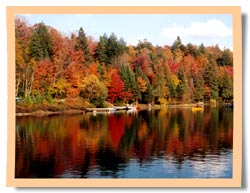 Canoe Lake. Algonquin Park
Algonquin Park
World famous Algonquin Park attracts visitors from around the world. Hike one of the parks many interpreted trails, paddle the network of lakes and rivers, watch for wildlife, visit one of the fine museums or photograph the magnificent vistas.
Town of Dorset
From Dwight follow Highway 35 south. This picturesque and winding road brings you to the Dorset Scenic Lookout Tower. Continue on to the charming town of Dorset, home of Robinson's General Store, the Dorset Heritage Museum and the Dorset Snowball Winter Carnival.
Town of Huntsville
The historic town of Huntsville is surrounded by large rural areas of forest, lakes and wetlands. Tourism is Huntsville's major industry, boasting a very well established network of restaurants, commercial attractions, and support services.
Ragged Falls
This attraction is a short canoe trip from our beach. Just follow the shores of Oxtongue Lake to the Oxtongue River - with luck you'll see a family of Loons or a Great Blue Heron along the way. Ragged falls is also accesible from Hwy 60. Marked hiking trails lead to a lookout over the falls.
Oxtongue Rapids
A favourite picnic area and walking trail. A mecca for photographers and artists when the fall colours are in full blaze.
Algonquin Outfitters
A 5 minute walk from our resort, Algonquin Outfitters offers canoe trip outfitting packages, canoe and kayak rentals and sales, and a wide range of services for visitors to the area.
Other Attractions
Muskoka Heritage Place | Algonquin Theatre | Santa's Village